Canoe Safaris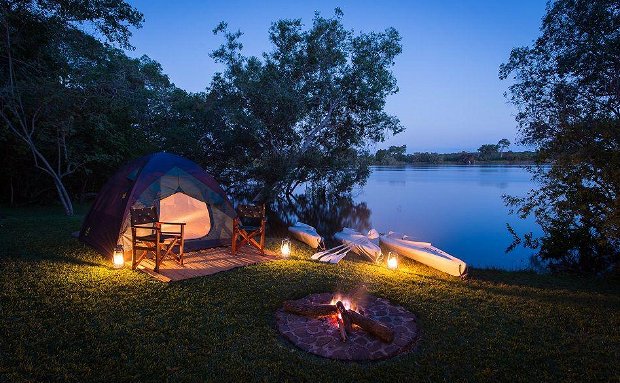 Canoe safaris are done on the Upper Zambezi. This is the section of the Zambezi river upstream of the Victoria Falls. This part of the river offers great wildlife viewing with the excitement of running small Grade 2 rapids.
The upper Zambezi River is a beautiful place for canoeing, with stunning vegetation such as ebonies, water berries, palms, and a variety of acacia and albizzia. The canoe trails passes through national parks, and the pristine bus where there is the possibility of seeing animals such as Hippos, crocodile, elephants, Giraffe, and numerous birdlife.
A selection of three trips are on offer. There is a half day, full day, and overnight trips. On the overnight trips, the evenings are spent in tents by the riverside and a delicious meal and cool drinks are enjoyed under the beautiful African skies.
Camping on the overnight Canoe safari is a real treat for outdoor enthusiast. We like our guests to get involved with building camp, helping to prepare food, and collecting wood. All camping equipment is delivered to the camp site by vehicle. The guides freshly prepare all meals. Feel free to bring your own bottle of your favorite tipple.
Pick up from your hotel for three selections is at 08:00.
Return time for the half day canoe is at 13:00
Return time for the full day canoe is at 15:50
Minimum age required 12years.
What to bring - Half Day trips
Swimwear board shorts bikini
Light quick-drying shirt and long pants for sun protection
River sandals or shoes suitable to get wet
Sun hat
Sunscreen
Cameras (your guide will have dry boxes to keep cameras dry)
Personal medication if required
What to bring - Full Day trips
Swimwear
Light quick-drying shirt and long pants for sun protection.
Fleece jacket
Mosquito repellent
Water bottle with clip
Water shoes
Hat /Sunglasses (with strap /croakies)
Sunscreen
Go-Pro / Waterproof camera equipment (at your own risk)
A 2-season sleeping bag
Small pack towel
Headlamp or head torch and spare batteries.