River Safaris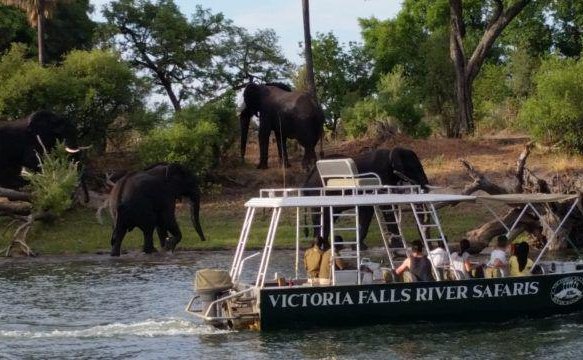 Explore the Zambezi… Experience the wide winding river and the myriad of islands and channels above the Victoria Falls.
Victoria Falls River Safaris offers you an exceptional upper river safari experience. Specifically designed propeller-free safari boats can operate in water as shallow as 20cm, increasing operational range to as close as 200 meters from the Victoria Falls. As a result, we can now offer cruises to amazing parts of the Zambezi that have previously been out of reach.
Enjoy the thrill of speeding over rapids then slowing down for a leisurely game viewing trip around the islands.
Three trips are on offer!
Early Morning Safari: Collection time is 08h00 for your river safari adventure which offers fantastic game viewing and great photographic opportunities. Muffins and hot refreshments complete your two-hour river experience.
Lunch Safari: You will be collected at 11h30 for your two-hour cruise on the majestic Zambezi. The chance of seeing white rhino, breeding herds of elephant, buffalo, giraffe, and smaller antelope as well as an extensive array of birdlife becomes a reality as you explore the river. A light meal and beverages are included.
Sunset Safari: Collection time is 15h30 in winter and 16h00 in summer. As the light softens and the wildlife heads to the river for their last drink of the day, your two-hour late afternoon game viewing cruise begins. Light snacks and sundowners complete this magical experience on the Zambezi.