Nature Walking Safaris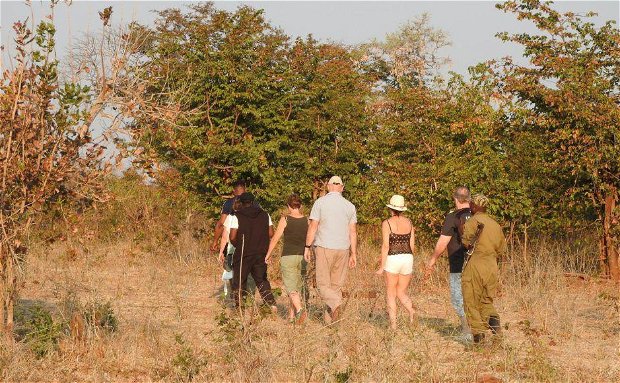 Walking safaris through the Mosi-O-Tunya national park and surrounding areas are suitable for active and adventurous participants.
Anyone above 12 years of age can participate. Walks are at a leisurely pace so you do not need to be a very athletic person.
On offer is a rare and intimate opportunity to explore and learn about the African bush, its game and birdlife. You are not inhibited by motor vehicle sounds from hearing natural sounds, viewing animal tracks, crawling insects, feeling the terrain and plant textures, smells and scents.
You are guided by experienced and knowledgeable local guides who will show you some of our animals which include giraffes, zebras, wildebeest, warthogs, primates, antelopes, and elephants to mention but a few. The bush's fantastic flora: teaks, mahoganies, mopanes and marula trees which for elephants are a real delicacy are some interesting plants you will find.
During our mid-walk breaks near the mighty Kasamba Bezi, popularly known as Zambezi River, guests will have the chance to observe close up the lazy hippos and the ibis perched on the trees along the river banks.
For security, an armed scout escort will accompany each tour.
Tours usually start at 06:00 in the morning and 14:30 in the afternoon. They last a minimum of 3hrs.
What to bring - Full Day & Half Day trips
Sun hat
Sunscreen
Cameras