Tiger Fishing on the Zambezi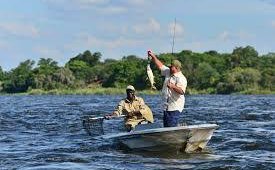 With over 75 species in these waters, you can't go wrong with a fishing excursion on the Zambezi River. It offers one of the most exciting and challenging experiences for avid anglers: an opportunity to catch the Tiger Fish.
Rated by many sports anglers as the finest freshwater fighting fish in the world, this powerful and swift predator is sure to give you a run for your money. The fishing starts at Kalai island about 9 km above the falls. You then move downstream between the islands looking for the best spot where the fish are found.
Pick up from your hotel is at 07h30 by boat at the Royal Livingstone Hotel deck. The trip return at 12:00.
All fishing equipment and tackle are supplied. A standard replacement fee will be charged for all lures lost by the angler.
Non-fishing partners are welcome to join the river safari experience, special rates apply.
Maximum anglers 6, maximum anglers per boat 4 plus non-fishing partners
The rate includes return transport to your hotel, early morning tea and coffee, a light snack and cold beverages.